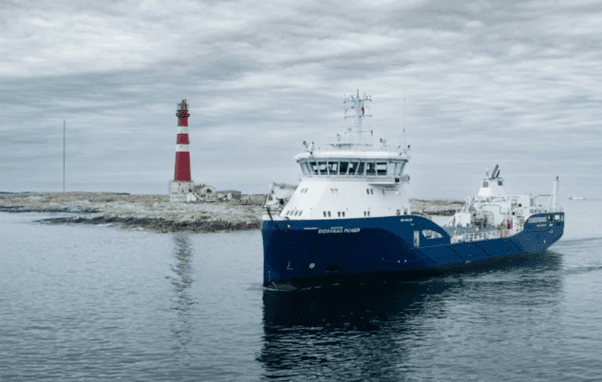 Photo credit: Kongsberg
Kongsberg Maritime has completed an autonomous operation on coastal cargo vessel Eidsvaag Pioner in Norway.
The test cruise has been named one of the most complex autonomous journeys at sea so far.
The Eidsvaag Pioner is one of the two vessels that are equipped for remote-operated and autonomous transport demonstrations for the AUTOSHIP project, which is part of Horizon 2020, a European Union research programme.
Owned by the Eidsvaag shipping company, the Eidsvaag Pioner operates along the Norwegian coast and in fjord areas where it carries fish feed to ocean fish-farms.
The demonstration of autonomous technologies was carried out over 13 hours and involved the vessel completing a voyage outside the coast of Kristiansund on the northwest coast of Norway.
The ship undocked from the port of Averøy, sailed to the world's first ocean fish-farm and back to port again, a journey of about 160 nautical miles in total.
The first part of the demonstration included automatic undocking from the quay at Averøy. The autonomous technology then took control to navigate and manoeuvre out of the harbour and further out to open sea. Here the ship navigated a route between several islands and avoided other sea traffic, before arriving at the offshore fish farm Ocean Farm 1, owned by Salmar.
Various manoeuvres were then carried out using the Dynamic Positioning (DP) system. The vessel next returned to port, again navigating open sea and congested seaways before it automatically docked again. The entire operation was monitored and occasionally controlled remotely by the shore-based captain and engineer.
CEO of Kongsberg, Geir Håøy said: "This was an opportunity to show the world that remote and autonomous technologies can be successfully deployed on a general cargo vessel, carrying out a range of operational aspects of a typical voyage."