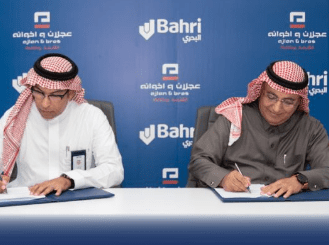 Saudi Arabia´s state shipping company Bahri has confirmed the shipment of 60,000 tons of barley, at the Jeddah Islamic Port in an attempt to ensure food security.
It was stated that its vessel SARA which weights 60 thousand tons of barley, has arrived at the Jeddah Islamic Port, coming from the Australian port of Bunbury. Several officials from the relevant departments received the shipment, after the Agricultural Development Fund funded the supply agreement reached between Mansour Al-Mosaid Company, and the Saudi Agricultural and Livestock Investment Company (SALIC).
The vessel SARA is one of several ships added to Bahri's fleet to meet the needs of customers in the Kingdom and the region.
On this occasion, the CEO of Bahri, Eng. Ahmed bin Ali Al-Subaey said: "Providing staple grains such as barley, wheat, and corn to Saudi Arabia is one of our greatest accomplishments as part of the supply chain," adding that the new added ship to Bahri´s fleet, will contribute to enhance food security, one of the main objectives of Saudi Vision 2030, as he said.
Speaking for the Livestock Investment Company (SALIC Group), the CEO Eng. Sulaiman bin Abdulrahman Al-Rumaih, emphasised the fact that the contracting project and the arrival of the shipment, which consists of 60,000 tons of barley, is an important milestone in local food security, since efforts have been integrated between three national companies to achieve and ensure food security following the Vision 2030 objectives, an extension of the "SALIC" role in empowering the local agriculture industry.
According to Al-Rumaih, his company through its global investments, contributed to achieving the national goals for food security in strategic commodities, by receiving over one million and three hundred thousand tons of commodities, and products in the Kingdom during the year 2022.
It is important to note that this partnership between SALIC and Bahri companies, which comes in the context of maximizing the added value of the Public Investment Fund companies, which owns 100% of SALIC and 22.55% of Bahri, is the second of its kind after their strategic partnership in 2020 AD in the establishment of the National Grain Company, to establish a Yanbu grain handling station in Yanbu Commercial Port.
Source: Bahri