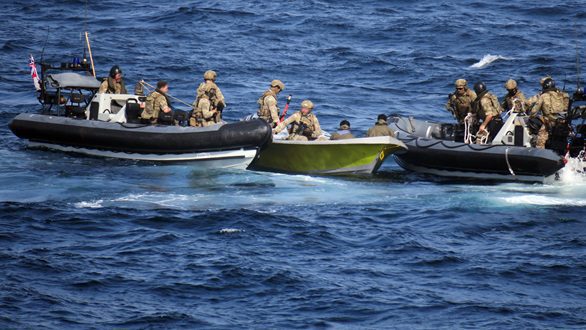 Britain's Royal Navy said on Thursday it had seized anti-tank weapons and ballistic missile components, being smuggled in international waters in the Gulf of Oman, after a high-speed chase in the Gulf.
Britain said that an American drone detected the vessel when it was moving at speed through international waters during the hours of darkness. The vessel was also tracked by a British helicopter, and tried to ignore every radio call demanding them to stop.
When hailed by the Royal Navy, the vessel initially attempted to navigate to Iranian territorial waters, but was stopped by the British frigate before they could do so.
The boarding team of Royal Marines who searched the suspect craft found a number of packages.
Also bomb disposal and ordnance specialists from the Royal Navy checked the weapons to ensure they were safe to bring them back onboard Lancaster for inspection.
The haul included Iranian versions of Russian 9M133 Kornet anti-tank guided missiles, known in Iran as 'Dehlavieh', and medium-range ballistic missile components.
Britain had informed the United Nations about the seizure in order to conduct its own inspection of the materiel.
Defence Secretary Ben Wallace said HMS Lancaster's interdiction and the permanent presence of the Royal Navy in the Gulf region, "supports our commitment to uphold international law and tackle activity that threatens peace and security around the world."
It's the third weapons cache seized by the Royal Navy in the region inside 13 months. Early in 2022, HMS Lancaster's predecessor operating in the same waters, sister frigate HMS Montrose, struck twice inside a month, interdicting multiple rocket engines for land-attack cruise missile and a batch of surface-to-air missiles.
As a result of last year's arms seizures, the "UK presented evidence of violations of United Nations Security Council Resolutions – concerning weapons transfers to Houthi rebels, and controls on the proliferation of Iranian missile technology respectively," as it is furthermore said by Royal Navy.