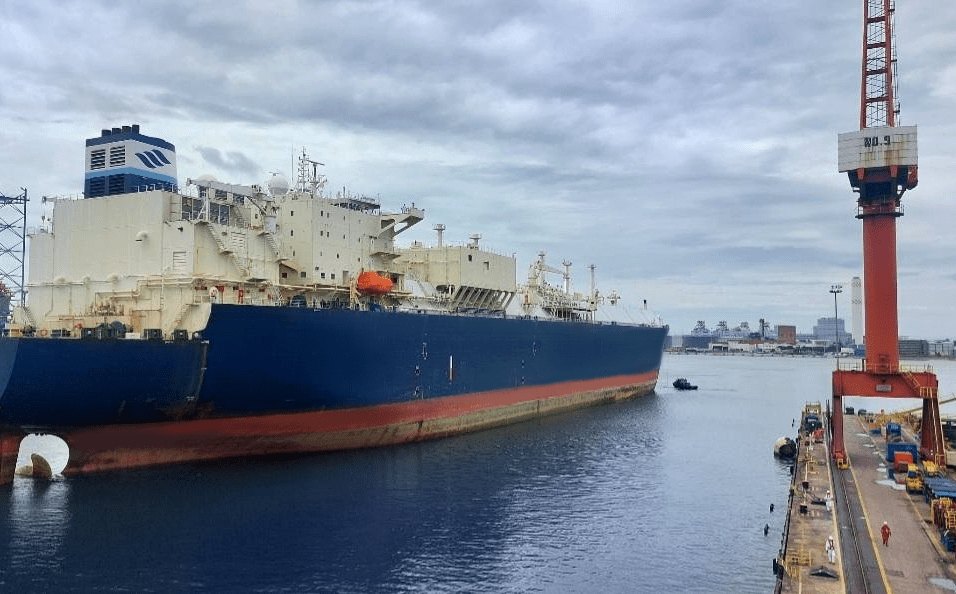 Conversion of GasLog's DNV-classed LNG carrier Gaslog Chelsea, which was recently renamed as Alexandroupoli, to a floating storage regasification unit (FSRU) has kicked off at the Keppel shipyard.
The work to develop Greece's first Floating Storage Regasification Unit commenced recently at the Keppel shipyard in Singapore. The 155,000-cbm LNG carrier, recently reflagged to the Greek flag, is the first FSRU conversion under the Greek Flag for operation in the Aegean Sea.
The FSRU Alexandroupolis is designed to add a new gateway for natural gas in the Greek and wider Balkan region, improving the region's energy mix and diversifying energy sources to enhance energy security. It is expected to have a regasification capacity of around 8 billion cubic meters annually.
Following conversion, the FSRU Alexandroupoli will serve as an offshore storage and regasification facility and will be part of the Alexandroupolis Independent Natural Gas System.
The vessel is expected to be delivered at the end of 2023 and will be connected to the National Natural Gas Transmission System of Greece via a 28km long pipeline.
The project's owner, Gastrade, is a consortium of key players in the wider region's energy market: Mrs. Elmina Copelouzou, GasLog, Depa Commercial, the Public Gas Company of Greece, Desfa, the Hellenic Natural Gas Transmission System Operator, and Bulgartransgaz, the Bulgarian natural gas transmission and storage system operator.
"Through GasLog's renowned high standards of safety and reliability, the FSRU Alexandroupolis will offer energy diversification and security to the wider region and establish GasLog as an integrated provider of natural gas solutions. We are thankful to DNV for their support and partner-mindset throughout the project", said Kostas Karathanos GasLog's COO.