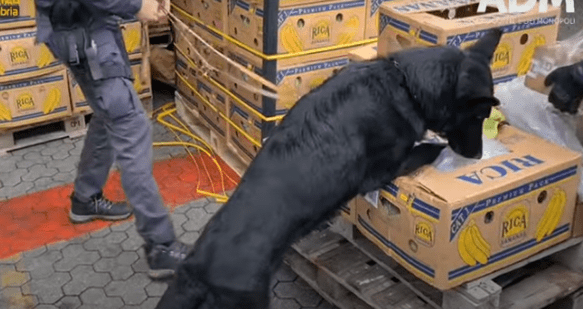 Image: Italy´s Guardia di Finanza
The fine nose of an anti-drug dog named Joel and some sophisticated scanners and the canine units of Italy´s Guardia di Finanza, helped sniff out 2,734 kg of pure cocaine hidden in a shipment of bananas, Italian officials said in a news release. The street value of the drug would have earned traffickers "an income of over 800 million euros," officials also said.
Italy's Guardia di Finanza police said as part of the fight against drug trafficking, has seized more than 2700 kg of cocaine hidden in containers in transit in the port of Gioia Tauro.
The inspection revealed that drugs were hidden in two refrigerated containers over 12 meters long, containing 78 tons of bananas.
The cocaine was identified after long and complex search operations, with the help of sophisticated scanners supplied to ADM and the canine units of the Guardia di Finanza and the anti-drug dog Joel.
Officials said the cocaine was of the finest quality and would have likely given to traffickers more than €800 million in profit if the drugs had made it through the port.
"The narcotic substance seized by the Fiamme Gialle of Gioia and by the officials of the Anti-Fraud Department of the UD of Gioia Tauro, found to be of extremely pure quality and in perfect condition, could have yielded to the traffickers an income of over 800 million euros."
The methods of concealment of the drug often prove to be different and always evolving, forcing investigators to perfect the operating methodologies from time to time.
With particular regard to the fight against international drug trafficking, in the port of Gioia Tauro, from January 2021 to today, a total of about 37 tons of cocaine have been intercepted and seized.