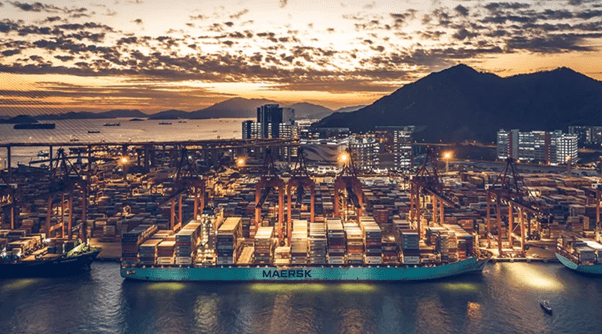 Shipping major A.P. Moller – Maersk, an integrated logistics company, books another financial year with profits and historical financial results, as the company claims.
However, the top management will continue to pursue the growth prospects within the Logistics and Terminals businesses, despite the fact that the global economy's slowdown will result in a softer market, particularly in Ocean.
Maersk´s financial performance for the full year 2023 depends on several factors, and is subject to uncertainties related to the given uncertain macroeconomic conditions, bunker fuel prices, and freight rates, as the company says today.
In line with full-year projection, Maersk produced exceptional financial results in 2022, as the revenues climbed by 32% to USD 81.5 billion, while Ebit increased by 57% to USD 30.9 billion.
The company reports record 2022 results across ocean, logistics and terminals, as they have been accentuated by extraordinary market conditions, supply chain disruptions and congestion. These multi-faceted challenges have led many of its customers to rethink and redesign their supply chains, some for the first time in years. During this period, the company expanded the integrated logistics capabilities through acquired companies like Pilot, Senator and LF Logistics, while organically grown Logistics with more than 20%.
The strong performance across all businesses, under the unusual market conditions, in the first part of the year was what drove the record financial results. In all segments, there was a major de-stocking as congestions eased and consumer demand fell, signalling the beginning of the anticipated normalization of the ocean market in the final stretch of the year.
Maersk reports the strongest results in Ocean due to the high freight rates and strong demand, particularly in the first half of the year. Ocean revenue was up 33%. The sector maintained a steady flow of long-term contracts throughout the year.
Ocean continued to improve on delivery performance over the year as congestion eased and was able to maintain strong margins due to the contractual nature of its customer relationship.
In the sector of Logistics & Services, revenue increased by 47%, with an organic contribution of 21%. The organic revenue growth came primarily from top 200 customers. Growth was particularly strong in warehousing where the footprint more than doubled to 7.1m sqm with the acquisition of LF Logistics alone adding 198 warehouses or 3.1m sqm.
Furthermore in Terminals, Ebit adjusted for the Russia exit reached a record of USD 1.2bn, supported by solid volumes growth and high congestion related storage income. Based on a combination of tariff increases and efficiencies the impact of high global inflation has been mitigated.
Vincent Clerc, the CEO of A.P. Moller – Maersk says that "As we enter a year with challenging macro-outlook and new types of uncertainties for our customers, we are determined to speed up our business transformation and increase our operational excellence to seize the unique opportunities in front of us."