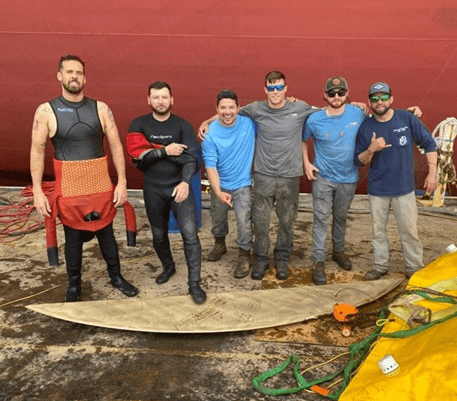 Phoenix International Holdings commercial ship husbandry division, recently responded to a call from a 330-meter tanker that suffered major propeller damage at port in Corpus Christi, Texas in 60ft of water.
Upon mobilizing a fly away dive spread and dive team, the PM Errol Gritten performed the complex mathematics involved in calculating the mass loss of the damage to restore hydrodynamic balance.
Phoenix divers then worked over 8 days cropping the blades and balancing the propeller in extremely poor visibility with lots of nearby vessel traffic, as Phoenix says in a statement.
After completion, the vessel was cleared by the U.S. Coast Guard and departed port, while the cropped sections of the propeller were returned to the client so a permanent repair could be made in dry dock.
Commenting on the project, David Lamon, Area Manager for Davie, FL stated, "Phoenix offers a full range of capabilities and equipment to provide quality, class approved repairs to commercial ships." As he said, "Our teams of highly qualified and experienced personnel are able to provide services 24/7 to aid our clients in avoiding critical downtime."
US-based Phoenix International Holdings, an underwater service provider, offers manned and unmanned underwater operations, and engineering services to a diverse set of clients worldwide. Phoenix provides a full range of underwater services to accomplish complex operations from the surface to water depths of 6,000 meters.