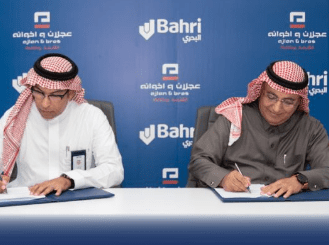 Saudi Arabian conglomerate Ajlan & Bros Holding Group operating in the region enters shipowning, by signing an agreement with Bahri state shipping company of Saudi Arabia. The deal will pave the way for the formation of a new joint venture company, which will specialize in owning, operating, and managing various models of vessels, serving as an essential contributor to Saudi Arabia's fleet.
Bahri will act as the commercial and technical manager. This encompasses the management of the new company's fleet of vessels, along with any and all day-to-day commercial and operational management duties.
As the state shipping company Bahri said in a release, the deal will create a wide range of new job opportunities and significantly contribute to Saudi Arabia's economic expansion and fiscal growth. Furthermore, it is mentioned that the formation of the joint venture company, while attracting private sector capital to a systemically important sector of Saudi Arabia's economy, will also help create greater domestic awareness of the sector itself, and the critical role it plays.
Source: Bahri