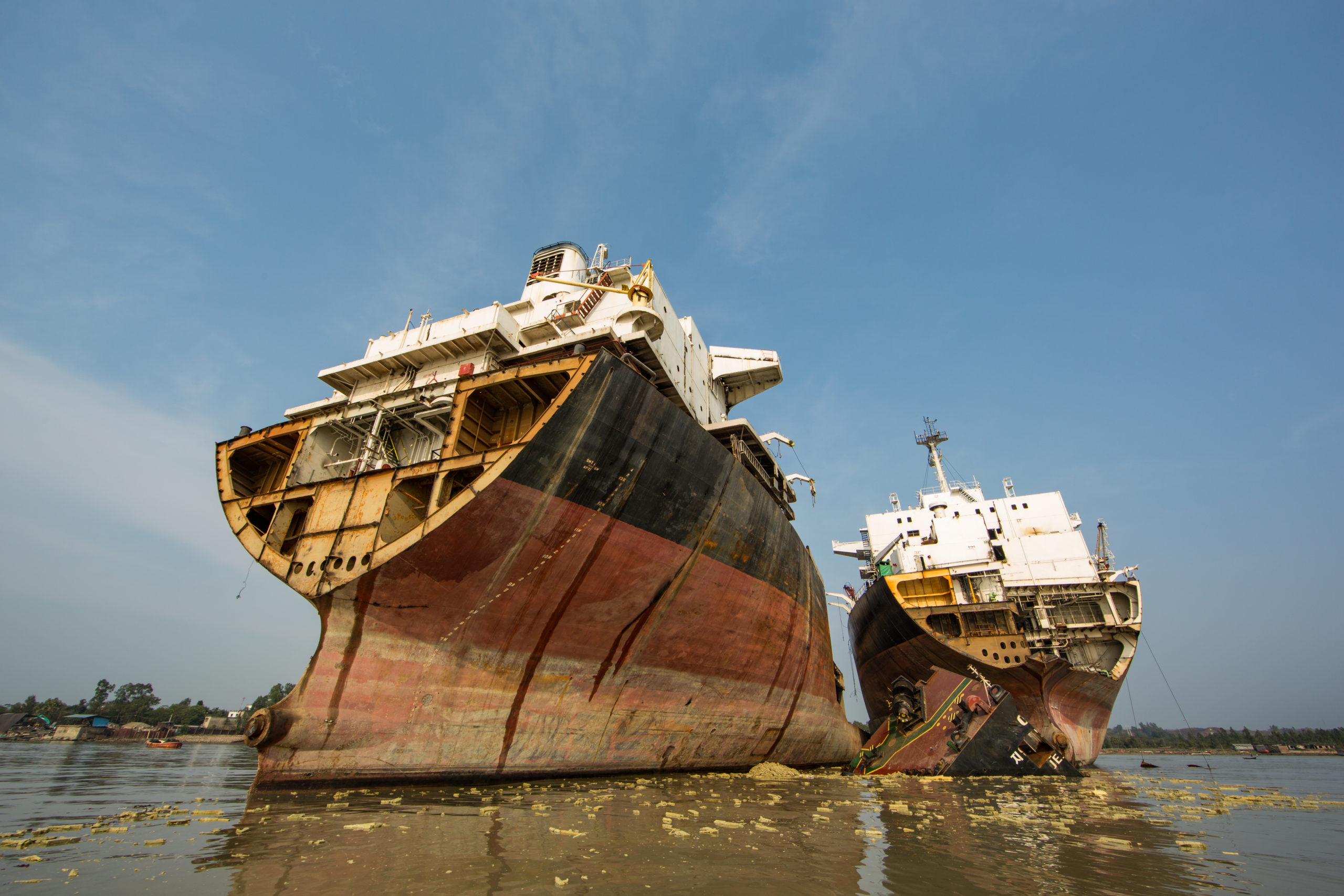 Shipbreaking on the beaches of South Asia continues to cause serious harm to workers and the environment despite plunge in number of ships scrapped. The recent data released by the NGO Shipbreaking Platform, a global coalition of organisations working for safe and environmental shipbreaking practices, reveal that 443 ocean-going commercial ships and offshore units were sold for scrapping in 2022. Of these, 292 large tankers, bulkers, floating platforms, cargo-and passenger ships ended up for dirty and dangerous breaking on tidal beaches in Bangladesh, India and Pakistan.
What is more, in 2022, at least 10 workers lost their lives when breaking apart vessels on the beach of Chattogram, Bangladesh, and another 33 were severely injured. Local sources also reported three deaths in Alang, India, and three injuries in Gadani, Pakistan.
Whilst the South Asian shipbreaking yards experienced the lowest turnover in over a decade, with a significant drop in terms of the number of ships scrapped, they remained the preferred destination for end-of-life vessels, dismantling 80% of the global end-of-life gross tonnage. The reasons for the plunge in the number of vessels scrapped in 2022 are multiple, with high ocean freight rates that made it profitable to continue operating older vessels and banks' shortages in providing credits to companies for the purchase of end-of-life assets identified as the main drivers.
Ship owners from Asia and Europe are top on the list of dumpers that sell vessels for dirty and dangerous breaking to the beaches of India, Pakistan and Bangladesh. Pakistan dismantled 43 ships in 2022. Bangladesh dismantled 122 ships in 2022. India dismantled 127 ships in 2022.
NGO Shipbreaking Platform reported that at least eight ships de-registered from a European flag registry prior the last voyage to the breaking yards in order to circumvent, as it is mentioned, the EU Ship Recycling Regulation, which demands the recycling of EU-flagged vessels only in approved facilities in Europe, Turkey and US. Furthermore, at least nine vessels were sold to beaching yards in breach of the EU Waste Shipment Regulation, which bans all exports of hazardous waste to non-OECD countries, as it is also highlighted.
"Companies have a duty to eliminate the negative impacts that their commercial decisions have on the environment and people. End-of-life vessels are hazardous waste, and taking them apart on tidal beaches is by far the worst industrial practice," says Ingvild Jenssen, Executive Director and Founder of NGO Shipbreaking Platform.