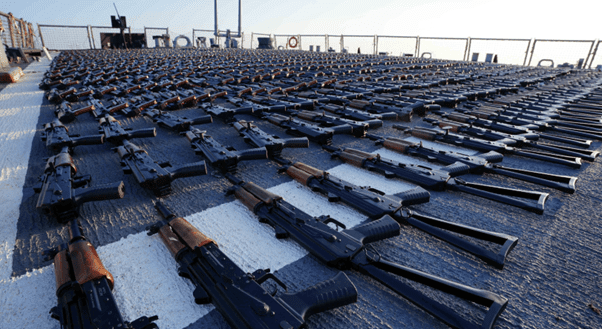 The U.S. intercepted a shipment of more than 2,000 Iranian assault rifles destined for Yemen, according to a statement from the US navy.
The U.S. Navy intercepted a fishing vessel in the Gulf of Oman on January 6 and discovered it smuggling 2,116 AK-47 assault rifles, while transiting international waters along a maritime route from Iran to Yemen.
A U.S. Navy boarding team from patrol coastal ship USS Chinook initially discovered and seized the weapons with support from USS Monsoon and guided-missile destroyer USS The Sullivans.
Six Yemeni nationals was the crew of the intercepted vessel, which was sailing on a route used to traffic illicit cargo to the Houthis in Yemen. The transfer of the vessel and its crew for repatriation is in progress, as it is highlighted in the statement.
"This shipment is part of a continued pattern of destabilizing activity from Iran," said Vice Admiral Brad Cooper, commander of U.S. Naval Forces Central Command, U.S. 5th Fleet and Combined Maritime Forces.
In the past two months, the U.S has also intercepted two other fishing vessels in the Gulf of Oman smuggling lethal aid from Iran to Yemen, as it is furthermore mentioned by the Navy.
Forces operating from expeditionary sea base USS Lewis B. Puller seized more than 50 tons of ammunition rounds, fuses and propellants for rockets, on December 1.
In November the Navy seized more than 70 tons of ammonium perchlorate, a powerful oxidizer commonly used to make rocket and missile fuel.