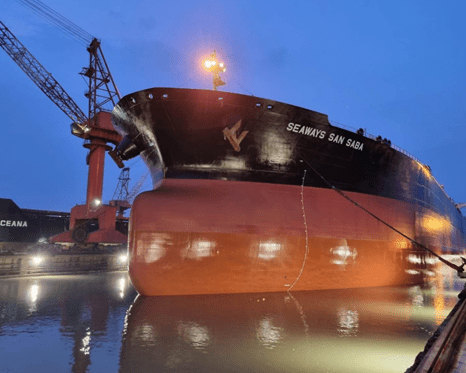 The tanker shipowner International Seaways reports highest ever earnings driven by the company´s strategy of building a diverse fleet of crude and product tankers with sizable operating leverage.
The New-York listed company recorded net income in the fourth quarter of 2022 of $218.4 million, compared to a net loss of $34.0 million, in the same period the year before.
"2022 was an outstanding year for Seaways, as we capitalized on our increased scale, further enhanced our financial strength, and continued to return significant capital to shareholders," said Lois K. Zabrocky, International Seaways' President and CEO.
The top management of the company expects near-term catalysts to continue to drive tanker earnings, including sanctions on Russian oil, and the reopening of China.
The tanker owner and operator also anticipates the delivery of the three dual-fuel LNG VLCCs in the first half of 2023, to reduce the company´s fleet carbon footprint. Lois K. Zabrocky said that "our history of renewing our fleet at cyclical lows continues to serve us well, and we look forward to the delivery of three dual-fuel LNG VLCCs in the first half of 2023, which will not only reduce our carbon footprint today, but are well suited to adhere to anticipated environmental regulation into the future."
Last year the company sold or recycled eight vessels with an average age of over 16.5 years. Two of the eight vessels were Panamaxes built between 2002 and 2004, that were sold to be recycled in compliance with the Hong Kong Convention. The owner sold all four of its remaining Handysize vessels with an average age of approximately 16 years, and two 2008-built MRs, which saved approximately $4 million per vessel on upcoming drydock and ballast water treatment installation expenditures.
In the first quarter of 2023, the company has also agreed to sell another 2008-built MR, the High Mercury, which is expected to generate approximately $14 million in net proceeds after debt repayment.
The company´s newbuilding program, composed of three dual-fuel VLCCs, continues to progress with one vessel scheduled for March 2023 delivery, and the remaining two scheduled for delivery in the first half of 2023.
The vessels were ordered for an aggregate contract price of $288 million, and have approximately $172 million in remaining payments as of December 31, 2022, which are fully financed under a sale leaseback arrangement.
"Upon delivery, the vessels will commence long term time charters with an oil major for the next seven years," as International Seaways states in its report.