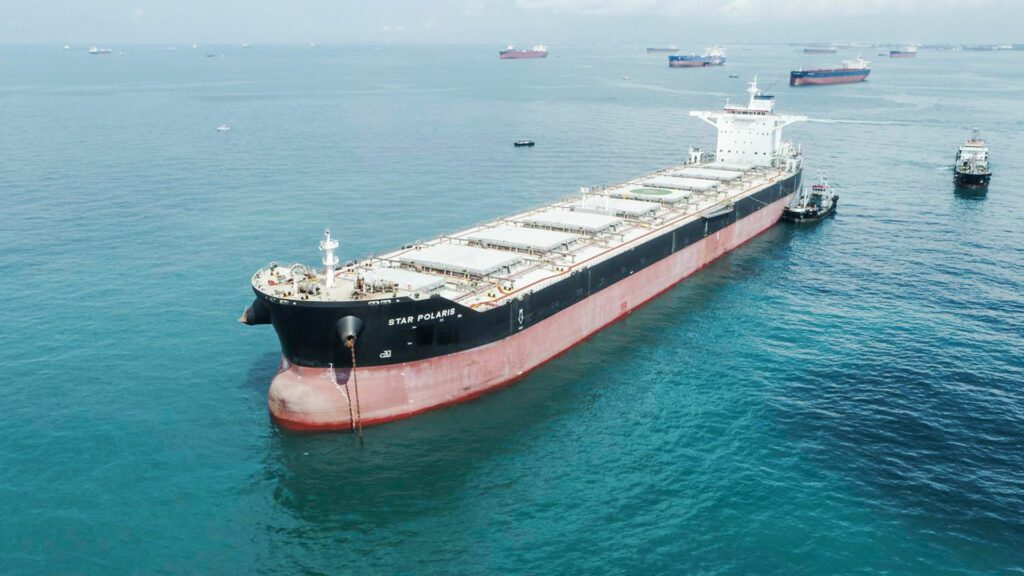 Photo credit: Star Bulk / Star Polaris, a Capesize Bulk Carrier
Star Bulk, one of the world´s largest shipowners, has been active during the first quarter of 2023, with the sale of two vessels, with charter-in arrangements for four Kamsarmax newbuildings and two Ultramax newbuildings, while the company has agreed with the war risk insurers of the vessel Star Pavlina, that the vessel became a constructive total loss given its prolonged detainment in Ukraine, following the commencement of Russia's military action against Ukraine.
The shipowner has collected the corresponding insurance value of this vessel.
Meanwhile the Nasdaq-listed company posted a net income of $45.9m for the first quarter, compared to a net income for the same period last year of $170.4 million.
"Star Bulk was profitable for the first quarter of 2023, the seasonally weakest period of the year, reporting Net Income of $45.9 million and a TCE of $14,199," says Petros Pappas, Chief Executive Officer of Star Bulk.
The shipowner took advantage of the increase in vessel values and agreed to opportunistically sell two 2011 built Capesize vessels, the Star Borealis and Star Polaris.
The Star Borealis was delivered to its new owner with the respective sale proceeds being collected on May 4, 2023, while the delivery of Star Polaris is expected to occur by the end of May or early June 2023.
The Greece-based company has also entered into long-term charter-in arrangements with respect to four Kamsarmax newbuildings and two Ultramax newbuildings, which are expected to be delivered during 2024, with an approximate duration of seven years per vessel plus optional years.
Furthermore, in November 2021 the company took delivery of the Capesize vessel Star Shibumi, under a long-term charter-in contract for a period up to November 2028.
The company's CEO Petros Pappas said: "On the basis of our dividend policy, our Board of Directors has approved a dividend of $0.35 / share, representing our ninth consecutive quarterly payment. Since the beginning of 2021, the company has returned over $1 billion to shareholders through dividends and share buybacks".
Looking ahead, Star Bulk is optimistic about the medium-term prospects of the dry bulk market given the favorable order book, and the upcoming environmental regulations.
The top management believes Star Bulk "remains well positioned, with a strong balance sheet and a fully scrubber fitted fleet, to take advantage of the positive market backdrop."