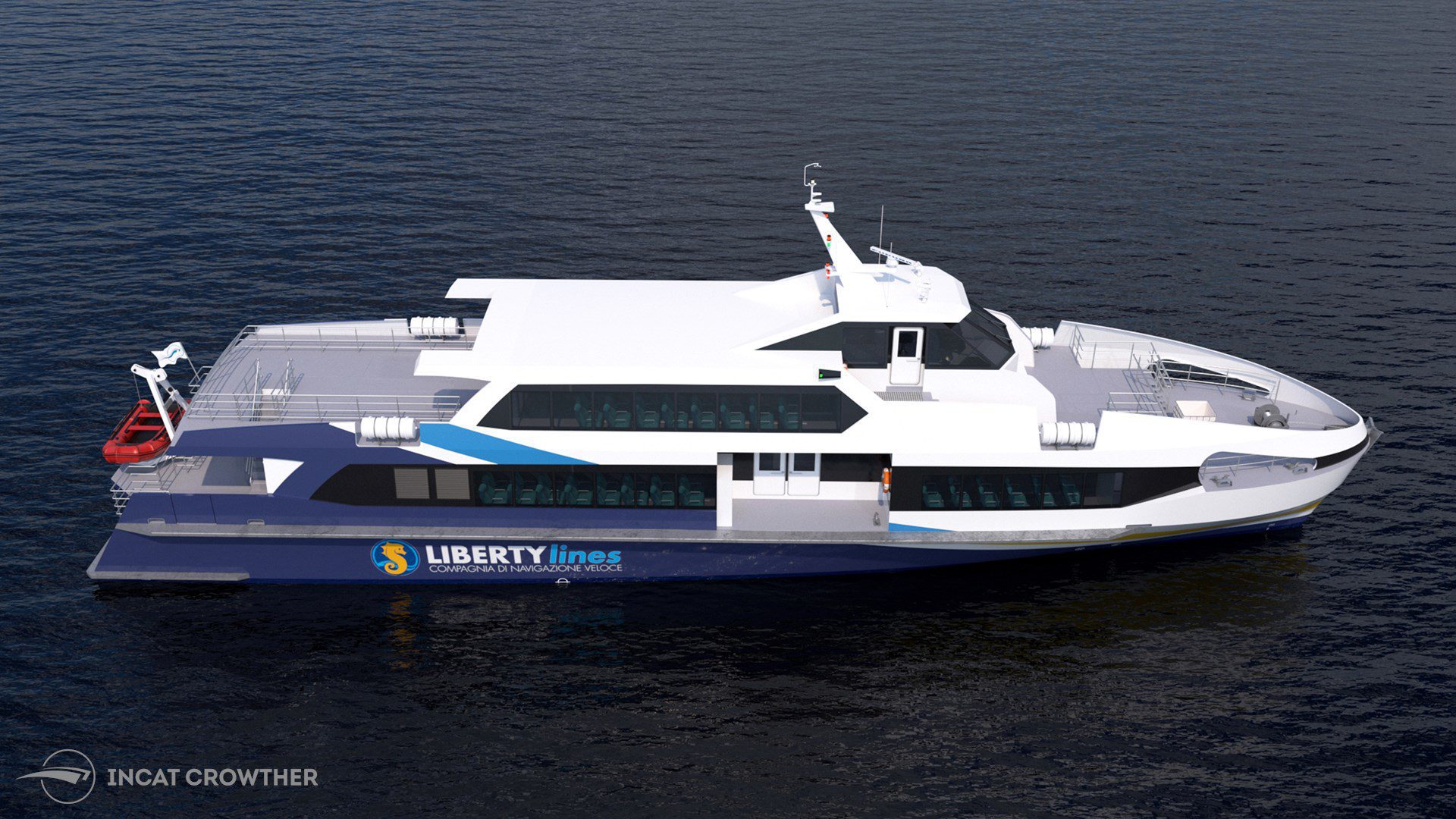 Italian ferry operator Liberty Lines has expanded its order of 38m hybrid monohull passenger ferries from Incat Crowther with three additional vessels added to the original order of nine. With construction underway at Astilleros Armon's shipyard in Spain, the 12 vessels are expected to be delivered between 2023 and 2026.
Each of the twelve new vessels will offer a flexible hybrid drivetrain and will have the ability to enter and leave ports at speeds up to 8 knots in zero-emission mode.
The expansion of the project comes following Incat Crowther's proven digital design process delivered a forward-thinking design solution for the Trapani-based operator.
Each vessel will be capable of a speed of 30 knots and can accommodate 251 passengers in safety and comfort.
The main deck of each vessel features seating for 166 passengers, five bathrooms and a kiosk/bar amidships. The upper deck seats a further 85 passengers with an additional two toilets.
Large luggage racks are situated throughout the vessel's two passenger cabins, in addition to overhead luggage bins.
The ships will be equipped with Rolls-Royce integrated MTU hybrid propulsion systems, each comprising two 16V4000M65L engines, two gearboxes, two e-motors and electric systems, two variable-speed gensets, a battery system, switchboard, electrical power management system and an MTU hybrid automation system.
The advanced hybrid system will call upon different operating modes as required. In all-electric mode, the vessels will have no emissions to a speed of 8 knots.
In hybrid mode, they can reach a high cruise speed when travelling across the sea, whilst simultaneously charging the batteries by the two main engines and deactivating the gensets for hotel load. During longer stops, the batteries are charged by means of the shore power supply.
Commenting on the new vessels, CEO at Liberty Lines, Gennaro Carlo Cotella, said the acquisitions were part of the company's net zero strategy.