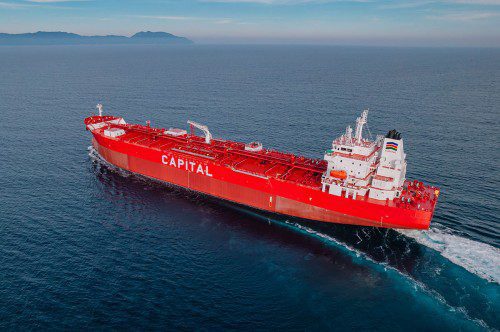 Greece-based Capital Ship Management adds in its fleet portfolio a newbuild chemical/product MR tanker.
The shipowner took delivery of the 50,000 deadweight newbuilding vessel "Avax", an eco-type chemical/product MR tanker, built by Hyundai Vietnam Shipyard in Vietnam.
The new vessel is assigned with wind-assisted ready and HVSC-ready notations by ABS, while it is the third of six LNG fuel ready sister ships with eco-friendly design delivered to Capital in 2023.
The HVSC-Ready notation is for vessels equipped with High Voltage Shore Connection systems to be installed in the future, and the Wind-Assist Ready notation refers to vessels equipped with wind-assist equipment to be installed on board.
The newbuild vessel "Avax" has future proof design compliant with EEDI Phase 3 and is annotated with ABS SUSTAIN-1 (2020) that demonstrates adherence to the United Nations' (UN) Sustainable Development Goals (SDG).
"Being Tier III compliant for reduced NOx emissions, assigned ABS ENVIRO notation, as well as ABS Wind-Assisted Ready, HVSC-Ready and LNG Fuel Ready notations, and equipped with IHM notation for safe recycling, the vessel Avax becomes one of the most environmentally friendly, technologically advanced and efficient vessels in the global MR fleet," as the company claims in a statement.