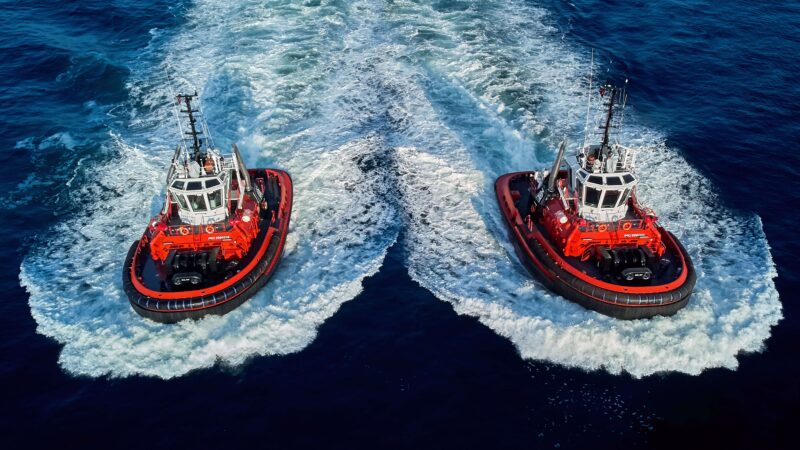 The Türkiye-based tugboat builder Sanmar Shipyards delivered four tugs during the last week of 2022, as the company announced.
As Sanmar Shipyards reports, two tugboats were to Italy-based long-term client Rimorchiatori Augusta, and "build based on the technologically-advanced, reduced emissions exclusive to Sanmar RAmparts 2400 SX MKII design from leading naval architects Robert Allan Ltd".
The tugs being the first IMO Tier III emissions compliant tugs working in Italian ports have been renamed CITTA DI AUGUSTA and CITTA DI SIRACUSA respectively by their new owners, and left Sanmar's Tuzla Shipyard on Saturday December 24th.
Both tugs measure 24.4 meter LOA, with a moulded beam of 12m and moulded depth of 4.5m, and have been designed for maximum efficiency in the performance of ship-handling duties for sea going ships, with bollard pulls of 60-plus tons, and a free running speed of 12 knots. They are also powered by two high speed, electronically-controlled IMO Tier III compliant CAT 3512E main engines, each producing 1901 kW to azimuthing thrusters, as the shipyard states.
Chairman of Sanmar Shipyards, Ali Gurun, said: "2022 was a good year for us with 30 deliveries to both new and returning customers. In 2023 our focus will continue to be improving the environmental credentials of our tugs through technological advance and state-of-the-art design. This latest version of the popular Bogacay class tugs achieves a new level of low-emission, low environmental impact tugboat operation. We are delighted that Rimorchiatori Augusta has again chosen Sanmar to provide the powerful, cost-effective and environmentally-conscious tugs they need to meet their specific operational demands."
The remaining other two tugs Sanmar delivered during the final week of 2022. They were a compact 32 ton bollard pull tug sold to Türkiye-based Marintug, renamed ADAKALE by its new owners, and BOZCAY VI, sold to Türkiye-based operator Yalpaş, where it has been renamed YALOVA 5.
Source: Sanmar Shipyard