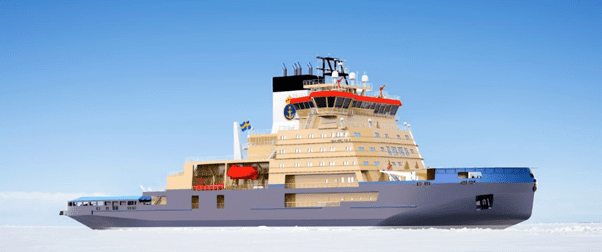 Swedish icebreaker will be the first methanol-ready and potentially the first methanol-fuelled icebreaker in the world.
Aker Arctic Technology design specialist in icebreakers said the development of the next-generation of Baltic assistance icebreaker has been finalized, with the contribution of the Swedish Maritime Administration, and optimized for Sweden's icebreaking needs, and currently the maritime administration of Sweden is evaluating shipyards which would have the expertise and possibility to build the vessels. This assessment should be ready in February 2023.
The new icebreaker will meet the needs to secure the maritime traffic in the Baltic Sea, and will assist in ensuring the supply of goods in both Sweden and Finland, in accordance with the project manager at Swedish Maritime Administration, Dan Broström.
The decision to construct at least two new icebreakers for Sweden was made in December 2022. The first vessel is planned to be delivered in 2026, and the second about a year later.
Dan Broström, project manager at Swedish Maritime Administration, says the plan is to build the icebreaker initially for fossil-free renewable diesel oil (hydrotreated vegetable oil) with readiness to adopt methanol fuel, as soon as the technology has matured, and fuel availability is secured. "The harbour generators will use methanol-based MD97 fuel from the start," as Broström outlines.
The initial thought was to adapt the design for various alternative fuels. After Sweden selected renewable methanol as the future non-fossil fuel of its next-generation icebreakers, the design was finalized to consider the special requirements of methanol fuel.
However, since engine manufacturers are working tirelessly to advance the technology as fast as possible and various bio- and e-methanol plant projects are progressing in Sweden, it might well be feasible to build the icebreakers directly for biomethanol use, as it furthermore mentioned.
"Our target was to design a vessel with 70% less emission than Atle-class vessels. According to our life cycle cost, and life cycle assessment calculations, we are exceeding this goal by a good margin," says Maximilian Vocke, project manager at Aker Arctic Technology.
Cargo vessels arriving to the Baltic Sea are growing in size. Panamax-sized vessels with a breadth of 32 metres are visiting harbours more frequently, requiring assistance during the winter navigating season.
"Shipping lanes on the Bay of Bothnia are rather narrow in winter which means that a Panamax vessel beset in ice could effectively block traffic. We don't want that to happen," explains Broström. "At the same time, we cannot afford to use two icebreakers to assist a single ship while numerous others are in need of assistance in our freezing waters. Therefore, one icebreaker has to be able to handle one assisted vessel."
Accordingly, the new icebreakers will be able to create channels of variable widths up to 32 metres. "We had the chance to try how to make a wide ice channel with a narrower ship hull in full-scale on Polaris, and are confident that all vessels, even wider than 32 metres, will be taken care of," adds Mikael Sandström, Master mariner, nautical expert at SMA, who has been in charge of overseeing the technical details.