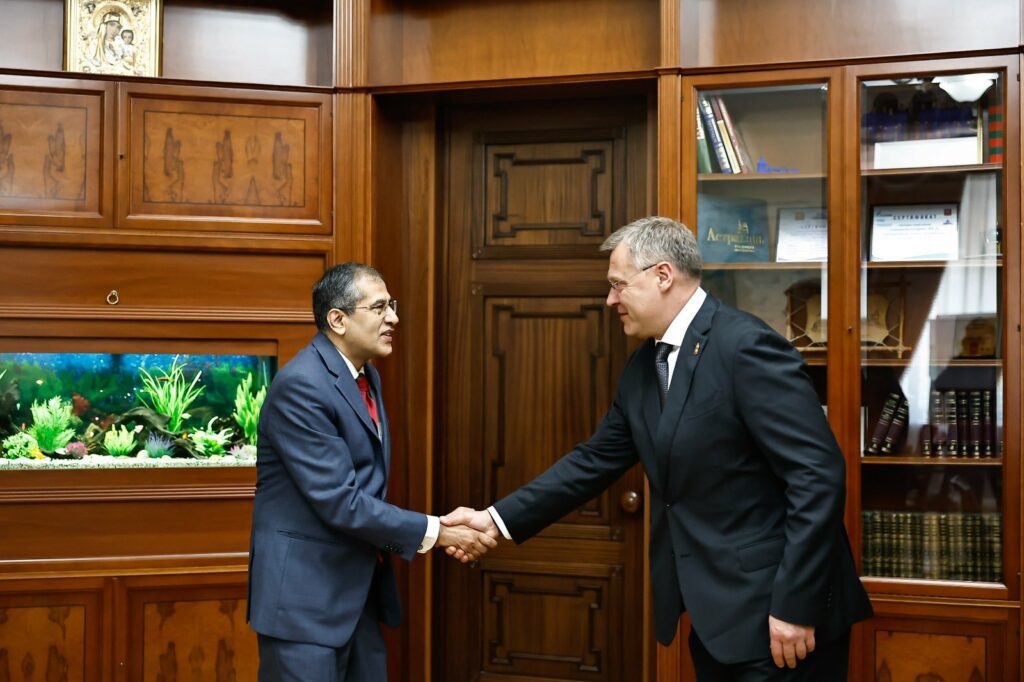 Photo credit: Indian government /Ambassador Pavan Kapoor on the left
Russia eyes Indian investments to the Russian oil and gas sector and expansion of Russian companies' sales networks in India. Cooperation with India is on the cards as Putin intends to expand the development of projects which are underway.
Russia and India are also negotiating a cooperation deal on shipbuilding and trade. The Indian ambassador to Russia has said during a visit to the city of Astrahan in Caspian Sea on 27 April that he began his visit to Astrakhan by meeting the Governor. "Recalled the historic association of the city with Indian traders going back to the 17th century and more recent links with Gujarat."
The Indian ambassador to Russia discussed opportunities for economic cooperation in diverse areas, as it said on Twitter.
Specifically, ambassador Pavan Kapoor said on Twitter that several enterprises engaged in activities ranging from shipbuilding to textiles for road building, are already benefiting from infrastructure and other support of the Government, and that Indian companies could also evaluate this option.
It's worth noting that on 18 April, Russian Deputy Prime Minister, Denis Manturov stated, at the latest meeting of the Russian-Indian intergovernmental commission, that shipbuilding is among the most promising avenues for cooperation between Russia and India, according to the Russian state news agency TASS report.
Russian Deputy PM said that the discussed cooperation between the two countries regards engineering and construction of cargo and passenger vessels.
Mr. Denis Manturov, the Co-chair of the India-Russia Inter-governmental Commission on Trade, Economic, Scientific, Technological and Cultural Cooperation, visited New Delhi from 17- 18 April 2023.
During the visit, EAM and Mr. Manturov Co-Chaired the 24th session of the Inter-governmental Commission which is a mechanism for monitoring bilateral progress of trade and economic cooperation between the two countries. The sides reviewed the entire gamut of bilateral trade and economic relationship, and agreed to work together to unlock its full potential including through addressing the trade deficit and market access issues, as it is confirmed by the Ministry of External Affairs of India.