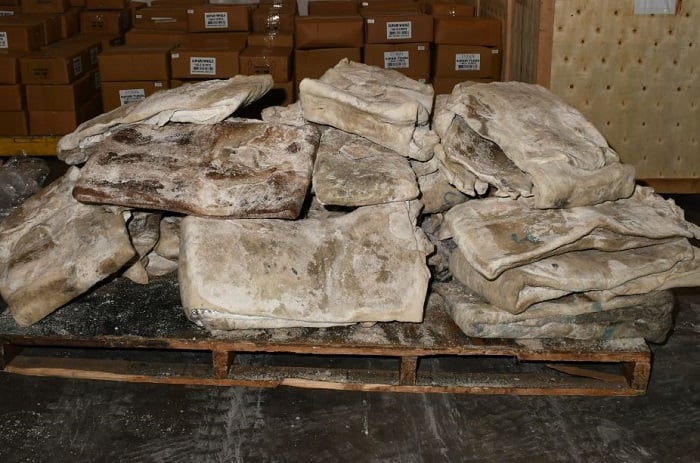 Photo credit: Australian Federal Police
A Mexican national 45 years-old has been jailed for 22 years with a non-parole period of 15 years of attempting to import more than 600kgs of methamphetamine into Australia, concealed in rotting, raw cow hides.
In August 2019, Australian authorities seized the 668kgs of crystal methamphetamine hidden inside raw animal skins, stopping more than 6,668,000 million individual street deals.
The seizure was considered the largest onshore seizure of methamphetamine originating from Mexico at the time. A shipping container, declared as containing "Salty Bovine Skin Cuero Verde Salado De Bovino", arrived into Melbourne from Mexico.
The shipment was examined and 18 pallets of frozen, raw and untreated cow skins were located inside. Further inspection revealed 167 silver packages of a white crystalline substance hidden within the skins. Forensic testing revealed the packages contained high-grade crystal methamphetamine.
Investigators responsible for deconstructing the hides described the smell of the rotting skin as "putrid." The Mexican national was identified as an alleged member of an organised criminal syndicate and arrested on 28 August, 2019.
On Friday 14 October, 2022, after a 12-week trial, a Jury in the County Court of Victoria found the accused guilty of importing a commercial quantity of a border controlled drugs. The man was sentenced on 5th of May, 2023 to 22 years' imprisonment, with a non-parole period of 15 years.
AFP Detective Superintendent Anthony Hall said the hard work of the AFP prevented a vast amount of harmful drugs from reaching Melbourne streets.
"Hiding drugs in untreated cow hides presented a significant biological hazard for AFP officers extracting the methamphetamine. It also demonstrates the unsafe, disgusting journey drugs can often take on their way to a consumer," said AFP Detective Superintendent Anthony Hall in a statement.
"Throughout this investigation, AFP officers skilfully disrupted the techniques employed by this criminal syndicate to run their illegal enterprises and collected overwhelming evidence of their attempts to coordinate the importation of harmful illicit drugs into our country and significantly contribute to the abhorrent harm being inflicted on the Australian community."